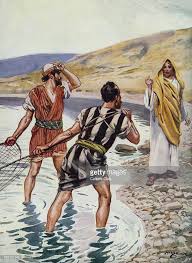 Mark's version of the story of the call of the first disciples by the Sea of Galilee seems most improbable? Is it possible that he no more than shows up, calls, and they follow...leaving behind everything in an instant? 
Maybe Mark is trying to teach us some important things about Jesus...and us! 
He has something which attracts us like "love at first sight"...what it is?
He finds us...we don't find him.
He meets us right where we are at in our daily lives, at home, at work, at school.
Homily delivered at Sacred Heart Church, Othello, WA. (Apologies again for the raspy voice!)